Below are links to websites and resources that you may find interesting, inspiring and useful. They range from Artist websites, Writing, History, Science, Poetry, Photography, Blog sites, Art materials stores, Articles. In no particular order.
The Link page image is from the Book of Fortune. I love the design and ideas that these old manuscripts hold. For more mystical symbols check out the great pinterest board at:  https://uk.pinterest.com/leilisuel/simbologia-m%C3%ADstica/
1. The Estate of Francis Bacon
The Estate of Francis Bacon passed upon Bacon's death to his sole heir, John Edwards. Edwards was a companion and friend of the artist for the last sixteen years of his life. Edwards donated the Reece Mews studio which Bacon had used as his primary studio for the last 30 yrs of his life to the Dublin City Gallery, The Hugh Lane in 1998. Bacon had been born in Dublin so in effect he was returning home. The Estate of Francis Bacon website is a treasure trove of useful  information on this most complex of artists.
Picture above: Bacon's Reece Mews studio
2. Writing with anger and love
Poetry, stories and photos by Camilla Reeve
Here is the poetry, stories and photos of my mother Camilla Reeve who has always been an inspiration and supporter of my creative journey.
http://www.writing-with-anger-and-love.co.uk/
3. Palewell Press – Independent Publisher
http://www.palewellpress.co.uk
A great publisher of writing on humanitarian issues.
4. 
Passion Palette is a website featuring art from excellent contemporary artists working in many media and subjects from Illustration to Surrealism and Portraiture. I got introduced to the website by my friend the artist Chris Lane whose artwork is available to view and purchase on passion palette. Thoroughly recommended.
5. The Life and Mystery of Giordano Bruno
One of the most important thinkers and scientists in Western thought. A visionary, a mystic, occultist, mathematician, philosopher, astronomer. I only recently became aware of Giordano Bruno. I recommend to anyone with an interest in science and philosophy to look at Bruno's work and ideas. Truly amazing and mysterious.
For an introduction to him check out this link:
http://www.britannica.com/biography/Giordano-Bruno
6. Lucian Freud Biography
Great wikipedia page on the famed British artist. Freud for me was one of the most important British artists ever. Freud was an artist who strove to capture the essence of modern life always maintaining a searching eye. One of the most honest artists in the depiction of the human body.
http://en.wikipedia.org/wiki/Lucian_Freud
Lucian Freud Self Portrait
7. L.Cornellisen &Son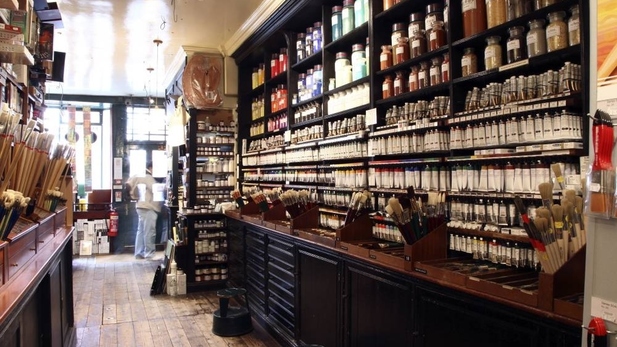 Cornelissen is known throughout the world as a specialist niche supplier of art materials from premises that a 19th Century apothecary would recognise. 105A Great Russell St, London WC1B
8. Jackson's Art Supplies
The Stoke Newington store above
Great art materials distributor. Probably the best prices in England.
9. Dr Criton Tomazos
Criton is a Painter, Architect, Theatre Designer, Playwright, Poet and Art Critic. I particularly like Criton's imagery where I see surrealism and metaphysical  ideas combine beautifully.
10. The Britannia Centre
http://www.britanniacentre.com
Greek Cypriot Community Centre Britannia Road, North Finchley, London N12 9UR
I found the Britannia centre a very welcoming venue. I had the pleasure of attending a very inspiring exhibition of Greek Cypriot art there.
11. Emmanouel Roukoudis
Art Conservator Hagiography – Mosaic Artist
I discovered Emmanouel's art at a great exhibition of Greek art held at the Britannia Centre in North Finchley. The images are very moving and follow a great tradition of Greek Icon painting.